TECFIRE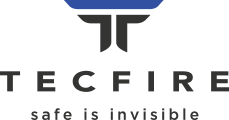 Tecfire is a leading company in the engineering, manufacture, and certification of Glass Protection Systems since 1985. Our high degree of specialization enables us to deliver the most innovative glass protection systems, encompassing everything from fire-resistant glazed solutions to bullet and burglar resistant glass systems.
Tecfire S.L.
Pol. Industrial Sector 9
Calle Ventorillo No. 1,
Yuncler, CP: 45529, Toledo

+34 925 55 19 55
info@tecfires.com
Headquarters
S P A I N
Construction Engineering L.L.C.
touhami@tecfires.com
+213 660 57 36 00

Distributor
A L G E R I A
E G Y P T
Branda Group
5th Settlement, 1st district
Villa 25, Cairo,
Arab Republic of Egypt

+20 226 199 962
info@brandagroup.com
Distributor
Smart Prevention Co., Ltd.
6831 - Al Mishael Dist.
Unit 24, Riyadh 14328-3859,
Kingdom of Saudi Arabia

+966 11 810 3211
info@tecfire-ksa.com
Franchisee
K S A
Inoksservis Trading Baku
kamila@tecfires.com
+971 55 974 62 74

Distributor
A Z E R B A I J A N
K U W A I T
Q A T A R
Visiontech Trading Co. W.L.L.
P.O. Box. 37400, Heera Complex
Fareej Kulaib Bin Omran Doha, Qatar

+974 448 69 365
bashir@visiontech.me
Distributor
U A E
Tecfire Middle East FZE
E502, E-Wing, Dubai Silicon Oasis
Dubai, United Arab Emirates

+971 4 372 4480
info@tecfires.com
Headquarters
O M A N
Al Aton Trading L.L.C.
Al Aman Building, Ground Floor (Opposite Oman Arab Bank),
P.O. Box 3121, PC 112, Sultanate of Oman

+968 247 00395
raghu@alatonoman.com
Distributor
S I N G A P O R E
Tecfire Singapore Pte Ltd
1 Gateway Drive, 07-01
Westgate Tower - 608531

+65 9633 1789
info@tecfires.com
Headquarters
Become a Franchisee or a Distributor
Swipe or rotate screen to view all countries